Reaching the expo
Where we are
The city of Rimini can be easily reached from abroad because it is strategically located in the centre of Italy and well connected to the vast transport network.
Rimini Fiera S.p.A. - via Emilia, 155 - 47921 Rimini (RN), Italy
By plane
The Expo Centre is just fifteen minutes' drive from Rimini - Republic of San Marino "Federico Fellini" International Airport (www.riminiairport.com).
By car
The Expo Centre is located in Via Emilia 155 in Rimini and is linked with the motorway network via the A14 Adriatic motorway (Bologna www.autostrade.it).
Exit: Rimini Sud (7 km.) - Rimini Nord (6 km.), calculate the best route to reach the Expo Centre.
Local road reccomended from hotels to Rimini Expo Centre and viceversa:
printable version

By train
Rimini´s main railway station is on the Milan - Bari line. (Rimini Railway Station -> Expo Center: bus N° 9). Timetable
Reach Rimini on Trenitalia's "arrow" trains at special rates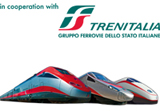 Public buses
Download the timetable and routes of the buses
For further info on bus timetables, click here
Free shuttle bus
Bologna Airport - Rimini Fiera Expo Centre and vice versa, daily runs, length of journey 1.15
Timetable.
For further info or reservations
(+39) 0541/744623
To book a taxi
An efficient taxi service enables the Expo Centre to be reached from anywhere in town.
(+39) 0541/50020
Car hire
AVIS Care Hire - special rates:
For more info:
(+39) 0541/51256
199 100 133
web site